Cultural Appropriation in BJJ / MMA Products and Why They're Offensive to Asians

link-> https://dynastyclothingstore.wordpress.com/

After reading this what you guys think?


_________________
tribute to Eurasian Tiger . Eurasian tiger is like my father figures.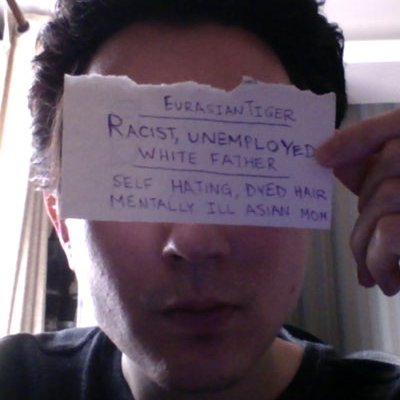 kayneoTheRisingWarrior




Location

: earthrealm


Posts

: 1523


Join date

: 2013-11-08



LOL I was just reading that.

Basically they do not care/do/train/watch MMA.

It is not thing in China and it will not be until it does not get promoted.

Rizin=PRIDEFC

Moderator




Location

: Croatia


Posts

: 1149


Join date

: 2013-11-08



This Wing Chun VS. Karate video mentioned in the article was pretty interesting.


Wow. A lot of generalizations that I want to take issue with.

One thing: NO CHINA DID NOT GO TO AMERICA, ANTARTICA, AUSTRALIA AND EUROPE IN 1421!!!!!!!!!!!!!!!!!!!!!!!! GAVIN MENZIES'S BOOK IS THE WORST PIECE OF BAD HISTORY EVER WRITTEN!!!!!!!!!!!!! I AM SICK OF HEARING ABOUT IT!!!!!!! THE BOOK IS A JOKE!!!!!!!!!!

Now,
Do the Chinese need to do MMA? Sanda/Sanshou is pretty awesome by itself. MMA is just another combat sport. From what I hear, the Chinese suck at international football too. Who cares? They got their own things.
Further, regarding the effectiveness of martial arts, MMA fighters drink their own Kool-Aid and it is quite hilarious. They think they are a bunch of badasses because they can grapple. Their is a real reason why the old martial arts did not teach or emphasize grappling, other than as a sport by itself.
Look at Chael Sonnen vs Wanderlai Silva: Silva swings, Sonnen ducks and does a double-leg takedown......and then winds up with twenty Brazillians punching him in the back of the head. I know of a similar brawl with some UFC-Nobody ("Google me, bitch!" "Sorry, I already forgot who you are.") that started and ended in a similar fashion.

Anyway, before I rant and reveal myself to be a martial arts nerd, the Chinese are interested in MMA And have plenty of their own orgs. Just yesterday, I saw a Chinese reality tv show where some hip-dance girls were taken to a MMA gym to learn some basic punch combos for their dance routine (look, my tv only gets four channels and there is never anything good on. Might as well watch some Chinese girls dance.) There was another movie that had a cameo by Wang Guan. They like MMA. I think, that if it is true that they suck at it, it has do with their coaches and trainers. They need to bring in some good guys to train them, or go to the big gyms in America and Japan.

Also, this guy has no idea what the Chinese diet is like. They get plenty of protein. I've been eating fish everyday and sometimes turtle and beef. The only thing left of these animals after we're through eating, is their bones. Sometimes, not even that.
_________________

Hamilcar

Moderator




Location

: Hangzhou


Posts

: 1136


Join date

: 2013-10-23



---
Permissions in this forum:
You
cannot
reply to topics in this forum