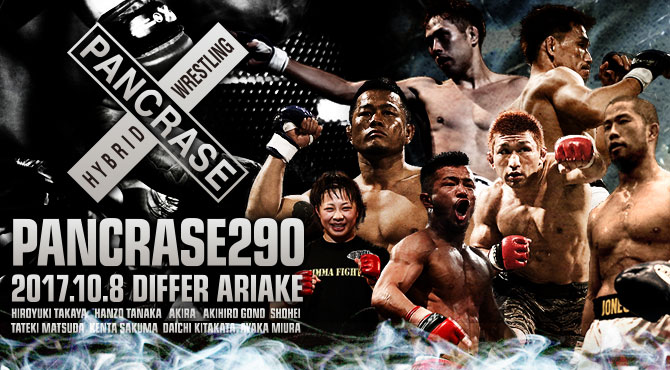 PANCRASE 290
October 8, 2017
Differ Ariake Arena
Tokyo, Japan
Main Card:


Hiroyuki Takaya (21-14)       vs.        (29-10) Hatsu Hioki

Main Event | Featherweight | 145 lbs (66 kg)

Hiroshige Tanaka (12-4)       vs.      (10-4) Yuki Nakahara

Co-Main Event | Featherweight | 145 lbs (66 kg)

Kenta Sakuma (12-3)           vs.         (7-0) Arthur Soares

Main Card | Bantamweight | 135 lbs (61 kg)

Daichi Kitakata (17-8)           vs.          (12-5) Daniel Lima

Main Card | Strawweight | 115 lbs (52 kg)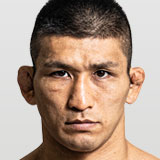 Akira Okada (11-5)               vs.       (35-21) Akihiro Gono

Main Card | Lightweight | 155 lbs (70 kg)

Ayaka Miura (4-1)                 vs.       (4-1)  Viviane Araujo

Main Card | Female Strawweight | 115 lbs (52 kg)

Atsushi Yamamoto (19-11)     vs.           (8-5) Toru Ogawa

Main Card | Lightweight | 155 lbs (70 kg)
The featherweight bout between Hiroyuki Takaya and Hatsu Hioki will be the main event of Pancrase 290.
These two actually met once back in July 2003. It was the second round of the Shooto's rookie tournament. Takaya scored many knock downs and won via unanimous decision. Takaya ended up winning the entire tournament as well.
Since then, Takaya became Shooto champ and went on to fight in the big show like K-1 HERO's.
Hioki started winning after this fight. He posted 10 wins and 1 draw in next 11 fights took place in Shooto, TKO, and PRIDE.
After PRIDE folded, Takaya fought in DREAM while Hioki fought in Sengoku (SRC).
So, these two never even fought in the same event since 2003.
And now, in year 2017, Takaya is currently on a three-fight losing streak and also Hioki is coming off from a devastating 14-second one-punch KO loss against Hiroshige "Hanzo" Tanaka.
PRIDE veteran Akihiro Gono will be back in Pancraes for the first time in 12 years and will face AKIRA in the lightweight bout.
Gono first fought for Pancrase back in 2001.
Since then Gono has fought for numerous promotions. Sengoku, DEEP, Bellator, THF, WSOF-GC, Real, and FIGHT2NIGHT. And, not just MMA but also Shoot Boxing and more than few kick boing bouts for the Chinese promotions as well. In fact Gono won HERO LEGEND Asia Championship tournament held in China just two years ago.
He is now 42 years old but apparently still feeling like he can take on top guys in Pancrase because his opponent, AKIRA, ranks third in the lightweight division.
AKIRA made a pr0 MMA debut in Shooto back in 2010, and has been fighting for Pancrase since 2013. He is 7-2-1 in Pancraes and two losses were against Satoru Kitaoka and Kazuki Toudome. The former champions.
_________________

Kingfedor

Admin




Location

: Quebec


Posts

: 2948


Join date

: 2012-11-29



---
Permissions in this forum:
You
cannot
reply to topics in this forum